How to "Backup a Tumblr Blog" ??
Blogging platforms such as WordPress or Blogger provides us the ability to make a backup of our blog posts, so we can move or export our blog easily. But Tumblr does not provide any official support to create a backup of the blogs.
So, Tumble-log Backup – it's an online tool that will backup all your Tumblr posts into a single HTML file. You only need to give your blog name and Tumble-log Backup tool will do the rest.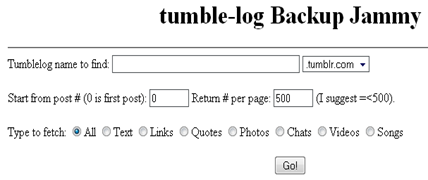 It works with tumblr micro-blogs that are self-hosted on custom domains like xyz.com and also that of with xyz.tumblr.com.     via [ labnol ]