Just noticed that Facebook has added a "Download Your Information" option under Account settings. This is a useful feature which allows Facebook users to easily download a copy of entire information, present on their Facebook profile.
Data that's included when you Download your Facebook information:
Your profile information (e.g. your contact information, interests, groups)
Wall posts and content that you and your friends have posted to your profile
Photos and videos that you have uploaded to your account
Your friend list
Notes you have created
Events to which you have RSVP'd
Your sent and received messages
Any comments that you and your friends have made on your Wall posts, photos, and other profile content
To Download Facebook Information, go to your Account Settings page, click the 'learn more' link beside "Download Your Information." From there, click the 'Download' button; a dialog-box will open, click the Download button. Then wait some time!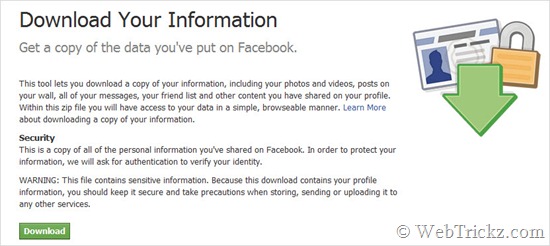 Unfortunately, there is no way to individually select which data you would like to download. The download is provided as a zip file, within this zip file you will have access to your data in a simple, browseable manner.
Note: Facebook will ask you to verify your identity in order to help protect the security of your account. After making the request, it may take some time to process your request and you will receive an email when your archive is ready for download.