As you know that Microsoft keeps on updating its Windows with regular updates day to day to keep us safe from the latest threats and vulnerabilities. But the problem is that it makes a backup of these update files in Windows folder which takes a lot of space of our system.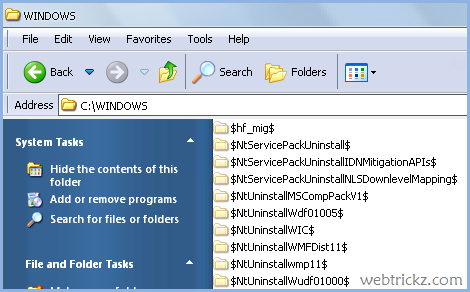 There is a simple and free way to remove these update files with the help of App. below:
Windows XP Update Remover
Windows XP Update Remover lets you easily remove the $NtUninstall backup folders and associated uninstall information from your computer to save disk space. It can also be used to uninstall Windows updates.Removing the backup folders makes it impossible to uninstall the Windows updates.
However, it's unusual to have to uninstall an update unless it causes problems, and that will usually become apparent soon after receiving the update. So you can safely remove the backup folders for updates that are more than a few weeks old, and recover the lost disk space.