How to Easily View Google Play Purchases on Android
Both the mobile and web interface of the Google Play store doesn't offers an option to instantly view the purchased apps history on Google Play. Though, one can easily view all the downloaded apps, books and movies for a specific Android device, but that includes both free and paid apps. Perhaps, it can be difficult to filter all the purchased apps if you've a lot of apps downloaded over a period of time. Luckily, there is a nifty app available now on Google Play that adds this missing functionality.
My Purchases is a free and useful app for Android that provides users the ability to see missing overview of their purchased apps, books, music and devices. The app has a simple and easy to use interface, a PRO version of it is also available for $1.29 which features no ads. To use it, simple install the app and then select your Google account which you use for app purchases. Then grant access to the app when asked and it'll soon compile and present you with the history of your purchased Android apps, as well as books, music and devices. It also lists other handy information like the purchased price and installed date for apps, where tapping on an app opens it up on Play store.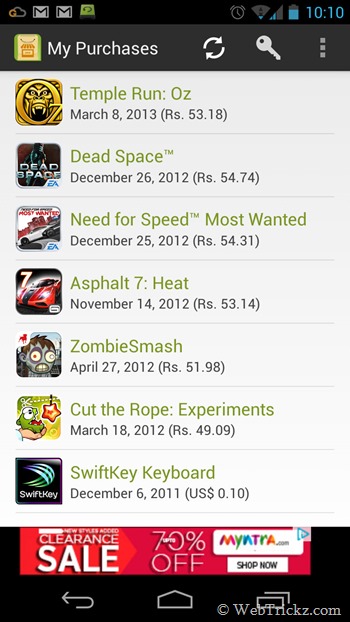 Download My Purchases [Free | Pro]   via [Droid Life]