Recently, Microsoft released 14 branded themes on Windows 7 launch. Basically a theme pack contains some wallpapers and sound files which can be seen only after installing a theme. I've found 2 ways to find those wallpapers hidden inside Windows 7 themes.
Method 1 – Install the theme pack by double clicking it. Then enable 'Show Hidden files and folders' from Folder options.
Now open C:\Users\Mayur\AppData\Local\Microsoft\Windows\Themes\India (Here 'Mayur' is the current user)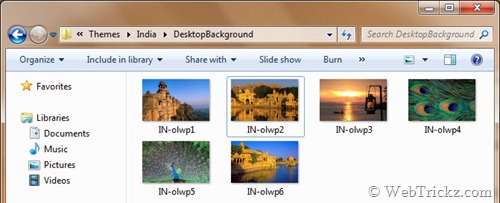 You will now see all installed themes along with their content like Desktop Background.
Method 2 – This way is much easier and allows to extract theme content without the need to install theme. Just download and install 7-Zip, right-click on theme pack and select the Extract option.
Also See:
Download Windows 7 New Branded Themes Now !

Download Free Windows 7 Porsche Theme

Download Ferrari Windows 7 Desktop Theme