Few months back, Gmail introduced several new inbox styles with the purpose to let users manage their email in the best preferred way. The new inbox style tab has now been turned on for almost everyone, and is also available on the new Gmail look. This new style adds 5 different Inbox tabs at the top of your inbox. Indicated as – "Try on a new inbox: Classic, Important first, Unread first, Starred first, Priority Inbox".
If you've already saw this new inbox style then you must have noticed that the 'Inbox-style tabs toolbar' disappears from your Gmail interface after a while. Well that's not a magic but smarty Gmail that removes those tabs bar, after watching you settled on a particular favorite style for about a week. However, one can easily change the inbox style from the drop-down menu next to the Inbox label or from Settings (Inbox).

Fortunately, there is a way to easily restore the Inbox tabs toolbar in Gmail if it has vanished automatically or you closed it using the cross(x) button. To get it back, just hover your cursor over the Inbox tab in left sidebar and click on the drop down menu. Then point at Inbox Type and click the 'Try the tabs again' option. That's it.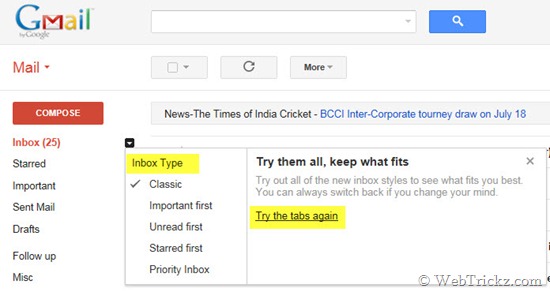 Note: Apparently, Gmail has one stupid limitation which prevents you from getting the inbox-style tab bar again. What happens is, if you close the tabs bar twice then Gmail assumes that you don't need it. Hence, on closing the inbox tabs bar for second time, the Try the tabs again option wont appear anymore and you cant get it.