Apple has decided to offer free bumper to iPhone 4 users who are experiencing reception issues with their iPhone 4. Only iPhone 4 owners are eligible for this program and can receive an iPhone 4 Bumper or other third-party case from Apple at no charge.
To apply for a free Bumper or case for iPhone 4, Download the free app 'iPhone 4 Case Program' on your iPhone 4. The app will check the IMEI and serial number to verify that you have an iPhone 4. Once eligibility is confirmed, you will be able to choose an iPhone 4 Bumper or other case. The Bumper or case will be shipped to you at no charge.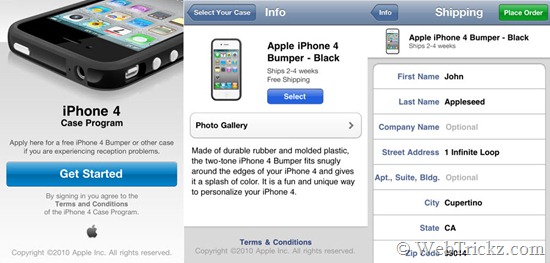 All iPhone 4 purchases must be made by September 30, 2010, to qualify for this program. For iPhone 4 purchases made before July 23, 2010, you must apply no later than August 22, 2010; otherwise, you must apply within 30 days of your iPhone 4 purchase.
via [iPhoneHeat]