Few months back, Google rolled out the Cosmic Panda experimental design for YouTube that offers a different look and a new experience for Videos, Playlists, and Channels but hasn't been launched publicly yet. It now appears that YouTube is testing a fresh new design for their homepage which isn't introduced for official preview yet but is being rolled out randomly for some YouTube users. Moritz Tolxdorff, a smart folk on Google+ has figured out a way to get the new design by tricking a related cookie.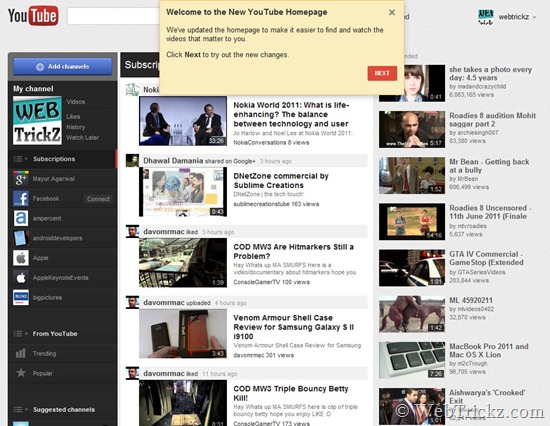 You can easily enable the New YouTube homepage on Google Chrome and Firefox browser. This wont affect the design of individual videos webpage. To do so,
1. Open www.youtube.com
2. Press Ctrl + Shift and J in Chrome to open the Developer Tools.
Press Ctrl+Shift+K in Firefox
3. In Chrome, click on the "Console" Tab, paste the below code and hit enter.
document.cookie="VISITOR_INFO1_LIVE=ST1Ti53r4fU";

In Firefox, just paste the above code (next to grey arrow) and hit enter.
4. Reload YouTube and enjoy the new layout.
What's New?
1. An all new beautifully designed homepage.
2. Subscribed and Suggested channels are listed in a sidebar on left. Added option to check the Popular and Trending videos from YouTube.
3. The mid-panel shows the lists of most recent videos from your Subscriptions, thus making it easier to keep up with the latest activity.
4. Quickly subscribe to favorite channels by sorting them on basis of categories.
5. Recommended videos are listed on the right sidebar of homepage.
This new YouTube design isn't declared officially yet and might get changed in future.