How to get the Standalone Installer for Google Chrome without downloading [Windows Featured]
Today, I found an amazing thing while going through my Windows installation directory. I found the Standalone installer for Google Chrome latest browser v1.0.154.36 and the previous v0.4.154.29 too. You can also get it if you have chrome installed on your Windows PC.
Follow the Steps below to get your own Standalone installer for Chrome:
1.)  Open My Computer and enable "Show Hidden files and folders" by opening Tools > Folder options > View tab and enabling the Show Hidden files and folders option.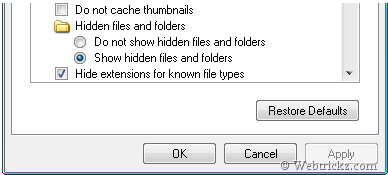 2.)  Now go to C:\Documents and Settings\Administrator\Local Settings\Application Data\Google\Chrome\Application and you will see this:

3.)  Here you will find two installers of chrome v1.0.154.36 and the previous v0.4.154.29. Open the Folder 1.0.154.36 where you will see this.
4.)  Open the Installer Folder where a file named chrome.7z is present. This is the offline setup for Chrome. Extract it and your installer is there which you can run to install it.

This installer will save your Bandwidth and time from installing Google chrome online, the next time you install it. Hope you will like this nice trick.