A while back, Twitter rolled out the 'Night mode' functionality for Android and iOS platform that makes accessing Twitter easier on the eyes during the night or in dark. The night mode is a nifty and useful addition as it switches the app interface from white to a deep blue color theme that looks nice and helps in reducing eye strain during nighttime, especially for power users. The Night mode can be easily enabled through a toggle in the app menu but the action can't be scheduled as of now.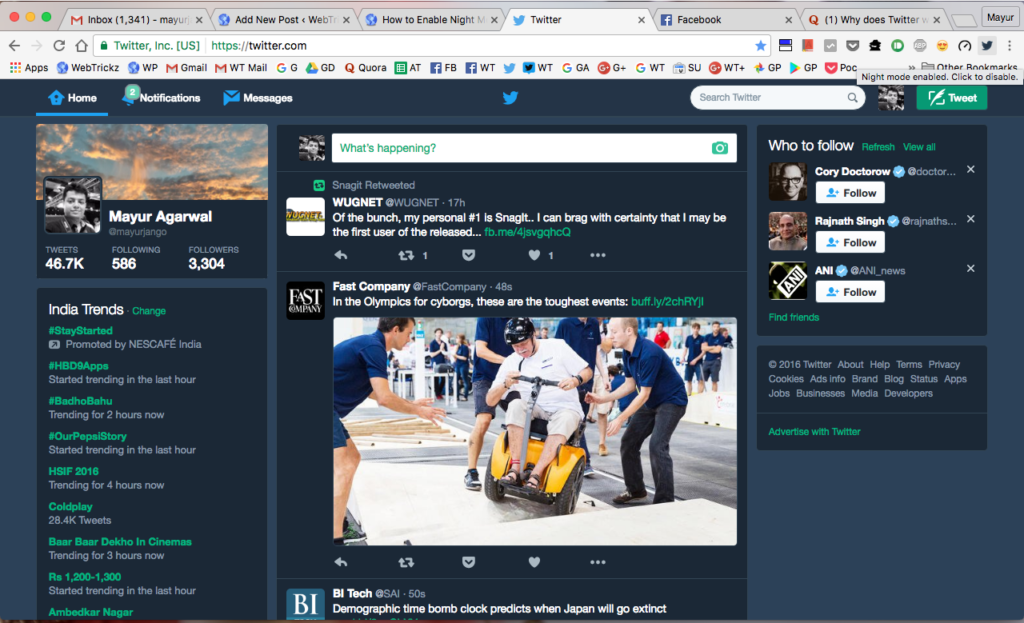 In case, you're one of those who rather use the desktop interface to scroll through your timeline then you might want the Night mode on Twitter's web interface which isn't officially available yet. Well, there is a Chrome extension available 'Twitter Web – Night Mode' that brings the night mode to the Twitter web app. The only limitation is that the dark theme/night mode currently applies only to the Home page or timeline. The appearance of the notifications, DMs, and search section remains the same. However, the developer is willing to apply the night mode changes to other pages too, once he gets the initial feedback from users.
It should be noted that the Night mode is enabled by default and one can switch to the default theme by clicking the Twitter icon, that appears in the Chrome toolbar when visiting twitter.com. Similarly, you can switch back to night mode by clicking the same Twitter icon.
Twitter Web – Night Mode extension for Google Chrome can be installed from Chrome Web Store.
via [OMGChrome]