The smart folks over at XDA-Developers have successfully ported the new Android 2.3 Gingerbread Keyboard to Android 2.1 and newer devices. Their package supports both rooted and non-rooted phones that can be easily installed alongside with Android default keyboard. The keyboard includes dictionaries for all 6 languages (DE, EN, ES, FR, IT, SV). We tried it on our Android 2.2 Froyo phone and the task went really well.
If you're using the Android stock keyboard or don't have a Swype keyboard, then you must give it a try to this Gingerbread one, which is surely much redefined than previous ones.
How to Install Gingerbread Keyboard on Android 2.1/Android 2.2 phone –
1. Download Gingerbread Keyboard for your phone using the below QR code: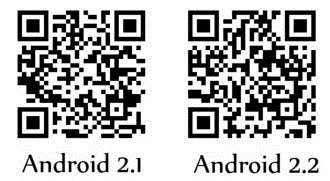 2. Open the Gingerbread Keyboard APK file and click on the 'Install' button.
3. After Gingerbread Keyboard is installed, go to Settings > Language & Keyboard, and select the 'Gingerbread keyboard' option to enable it.
There is also an option for 'Gingerbread Keyboard Settings' which you can customize.
4. Now just open any search box and long-press on a textbox to get the 'Select input method' option. Select the Gingerbread keyboard option.
Voila! You will instantly see the Gingerbread Keyboard and it will get activated.
You can easily revert to the default keyboard anytime. Hope you liked this post. 😀
via [Lifehacker & XDA-Developers]