The simplest, fastest, and working jailbreaking tool by Comex is released now. JailbreakMe is an online jailbreaking tool that works from the device browser itself. JailbreakMe 2.0 'star' works on iPad iOS 3.2/3.2.1 firmware. It also works with iPhone and iPod Touch.
How To Jailbreak iPad Wi-Fi & iPad 3G iOS 3.2/3.2.1 with JailbreakMe –
1. Connect your iPad to the computer, launch iTunes and backup/sync your iPad.
2. Make sure your iPad is connected to the Internet.
3. Open Safari browser and visit this site: http://www.jailbreakme.com (or try if the original link gets struck).
4. JailbreakMe will open, now "Slide to Jailbreak" iPad iOS 3.2.1/3.2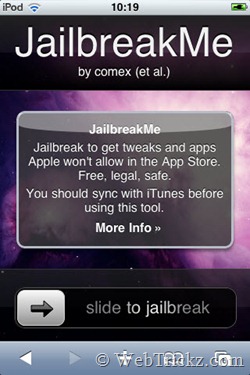 5. Wait, as it downloads some data and jailbreaks your iPad. (Note: If you were stuck at the purple screen, reboot the iPad and try again).
6. Upon completion of the process, you'll see the below message.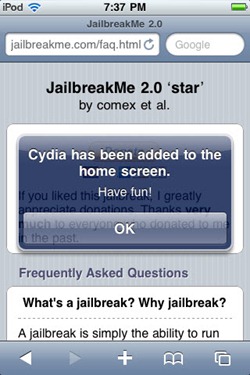 That's it. Your iPad is jailbroken now.
Note: The above screenshots are of iPod touch as I don't have an iPad.
Also See: Jailbreaking iPhone 4 iOS 4.0.1/4 with JailbreakMe