Motorola Droid users can now update their phone to the latest Android 2.2 firmware without rooting, as the official Android 2.2 Froyo update is now available. But you will need to install the Android 2.2 (FRG01B) update manually on your Motorola Droid. This will hardly take 10 minutes, just read and follow the below tutorial carefully to achieve success.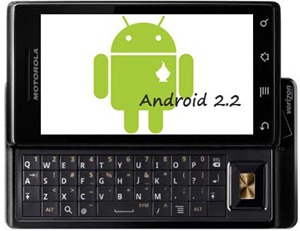 You've 2 options to install this Update – Install the update using your computer (PC or Mac) or Install the update directly (OTA) on Droid without using your computer.
Updating Motorola Droid to Android 2.2 Froyo Manually using computer –
Note – This guide is only for NON-ROOTED STOCK 2.1 Droid users.
Requirements:
– A MicroSD Card inserted into your Droid
– A USB Data Cable
1. Download the update.zip File  (Location 1 | Location 2)
2. Mount Your MicroSD Card – Connect Droid to a computer via USB. Select "USB connected" from the notification panel. Click the 'Mount' option.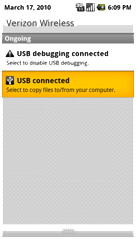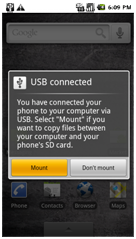 3. Transfer the update.zip to root directory of your MicroSD Card. (Paste the update file directly to the SD card and not in any folder inside it).
4. Unmount MicroSD Card – Slide down the notification panel and select "Turn off USB storage". Select the "Turn Off" option from the pop-up shown.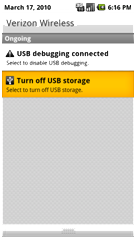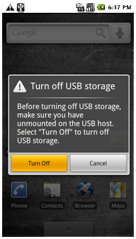 5. Prepare for the Update –
Turn Off your phone completely
Boot your phone in Recovery Mode – To do this, hold the power button while holding the "X" key on your phone keyboard. Wait for a triangle with an exclamation point to appear, then release both buttons.
Hold the volume up button and then press the camera button.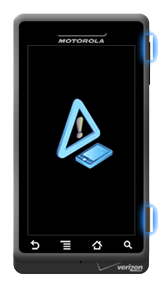 A text menu with four options will appear. Using the D-pad, navigate to "apply sdcard:update.zip" and push the gold, center button to select it.
The update process will begin and should complete in few minutes.
You might get this error: E:Can't open /cache/recovery/command
Don't worry, the update has been installed fine.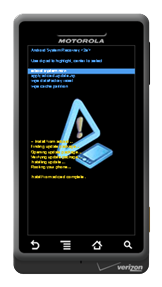 On completing, select "reboot system now" to reboot your Droid phone.
That's it. Your Droid has been updated to the official Android 2.2 Froyo software. 😀
>> To install this update over the air (OTA) on Droid, check the guide at AndroidForums.
Source: Android Forums