If you like a certain desktop wallpaper and don't like anyone (kids, friends..) to change it, then you have to Make your desktop wallpaper image permanent. This can be done easily.
To make a particular desktop background permanent, go to Run or search in Vista/7 and type gpedit.msc. Under it, open User configuration >Administrative Templates >Desktop >Desktop >Desktop Wallpaper.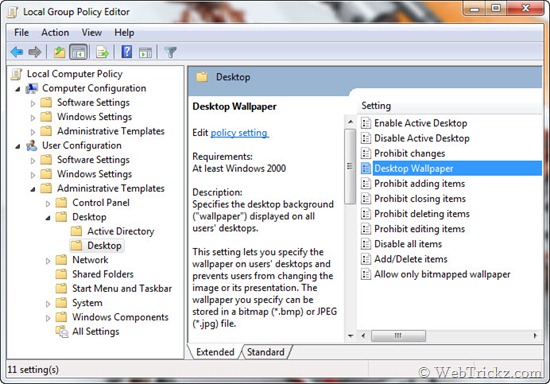 Select 'Enabled' under Desktop wallpaper and specify the location of the image or wallpaper that you want to make permanent. e.g. (F:\HD WIDESCREEN\MAD_Scorpion.jpg)
The wallpaper you specify can be stored in a bitmap (*.bmp) or JPEG (*.jpg) file. You can also specify that the wallpaper image be centered, tiled, or stretched.
Note: You will notice the changes after restating or logging off the windows.
Now no one can change your desktop background except you 😀
If you disable this setting or do not configure it, no wallpaper is displayed. However, you can select the wallpaper of your choice.