How to Share YouTube videos in HD format with Short URLs
YouTube has introduced a new and quick feature which allows users to easily share Youtube videos link as a Short URL and in High definition (HD) formats like 720p & 1080p. You can also directly share Youtube videos on popular social networks like Facebook, Twitter, MySpace, Blogger, StumbleUpon and via Email too.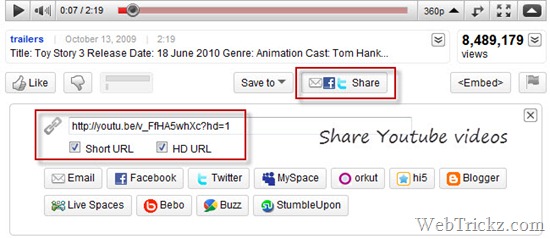 To shorten YouTube video link and share them in HD, just open the preferred youtube video. Now click the "Share" button located just below the video. Tick the 'Short URL' checkbox to shorten link and 'HD URL' to get the HD format link. Select both if you want Youtube video in short URL + HD format.