The Samsung Galaxy S4 boasts a powerful hardware, runs on Android 4.2.2 and packs a host of new software features like: Smart Scroll, Smart Pause, Air Gesture, S Translator, S Health, Group Play, Dual camera shot, etc. and also includes temperature and humidity sensors. If you've recently got yourself a SGS4 and are looking forward to take screen capture aka snapshots on it, then it can be done easily using 2 different methods.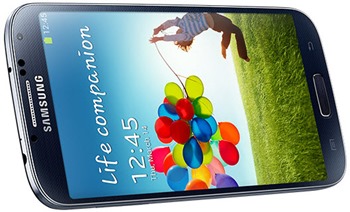 Method 1 – Taking Screen Shot on Galaxy S4 using Palm Swipe
You first need to enable the Palm motion feature in order to use this functionality. Go to Settings > My device > Motion and gestures. Now touch and slide the Palm Motion slider to the right to turn it on. Tap OK when a notification appears. Then turn on the 'Capture Screen' option. Note: At least one feature must be activated before Palm motion can be activated.
To capture any desired screen, sweep your hand across the screen as shown in the image below. The image is saved in Gallery > Screenshots. It is not possible to capture a screenshot while using some applications.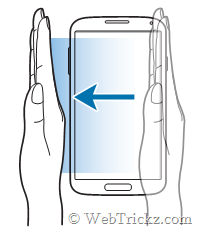 Method 2 – Using Hardware Key combination
Press both the Power + Home button simultaneously for around 2 seconds. The screenshot will be saved and you can quickly view it from the notification drop-down.