As you all know turning off our Windows PC requires some time which we don't like. So, I am sharing a trick with you which can help you solve this problem. The main pros. of this trick is that, it doesn't requires any modification to your registry values and also you don't need to install any app for doing this. This is the simplest one and also the fastest way to shut down your PC .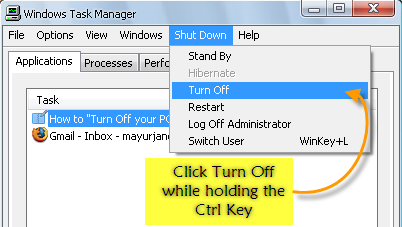 Steps to Follow :
Open Task Manager by pressing [ Ctrl+Alt+Delete ]
Click on the Shut Down tab.
Now click on 'Turn Off ' while holding the Ctrl key.
That's all !
I have tried this trick on my XP system and it has worked every time without negatively affecting my PC. However, I advise you to use this trick only when you are in a Hurry and you need a speedy shut down of your computer.