OS X Lion was just unveiled at WWDC 2011 which is a major release with over 250 new features. The OS X Lion offers amazing new features like Multi-Touch Gestures, Full-Screen Apps, Mission Control, Launchpad, whole new Mail, AirDrop, Auto Save and Versions, and much more which all takes Mac further than ever.
Mac OS X Lion is coming in July to the Mac App Store and the upgrade to Lion costs just $29.99. The upgrade process has been made simply too easy as you can get Lion easily just like any other app from the Mac App Store. You no more need to visit a store, buy the upgrade discs and then upgrade your Mac to latest OS!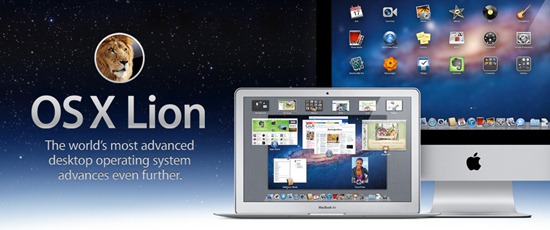 Video – Introducing OS X Lion
Upgrading your Mac to OS X Lion –
Before upgrading, make sure your Mac hardware and software is compatible with Lion. Just follow the steps given below to upgrade to Lion from the Mac App Store.
Step 1: Your Mac must have an Intel Core 2 Duo, Core i3, Core i5, Core i7, or Xeon processor to run Lion. Confirm it by clicking the Apple icon at the top left of your screen, then choose About This Mac.
Step 2: Make sure you have the latest version of Snow Leopard prior to purchasing OS X Lion from the Mac App Store. Click the Apple icon and choose Software Update to install the latest version of Snow Leopard.
Step 3: Buy and Download OS X Lion from the Mac App Store when it is released in July. Then follow the onscreen instructions to install Lion.