How to use 3rd Party Themes in Windows 7 RC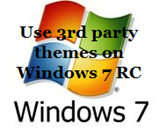 Windows 7 already comes with some cool wallpapers and themes. But If you want to use 3rd party themes on Windows 7, then you'll require to patch some files. This is because Windows restricts the use of third party themes and styles.
Uxtheme patcher does a great task by patching and allowing us to use more themes. The latest version of Uxtheme patcher is available for Windows 7 RC which has patched files as: uxtheme.dll, themeservice.dll, themeui.dll.
Just download the Uxtheme.dll Patch for Windows 7 RC (build 7100) and use it. If you don't know how to patch uxtheme.dll, then check out this post.
Source: BlogsDNA & Patch by Within windows.