Today, Huawei Devices announced the launch of MediaPad, the much awaited 7-inch Android 3.2 Honeycomb tablet and two new generation Cloud phones running Android v2.3 Gingerbread – Huawei Sonic & Huawei IDEOS X3. Their Cloud service enables easy downloads and uninterrupted sharing of movies, electronic books and music, while backing up information on the cloud. Huawei MediaPad is priced at Rs. 28,359, the Sonic at Rs. 9,210 and the IDEOS X3 at Rs. 10,229 in India.
Posted below are some excerpts from the Official Press Release: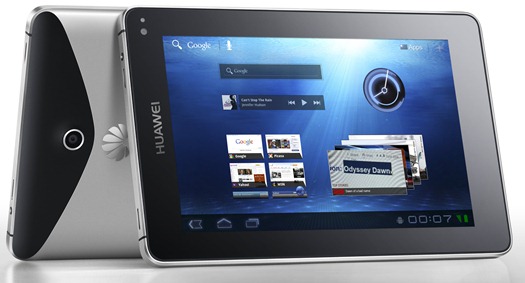 Huawei's MediaPad launch has been pegged as one of the biggest in the industry. MediaPad is the world's first 7" Android 3.2 Honeycomb tablet, targeted at mobile professionals who are looking for a portable entertainment and business optimized tablet. Unlike other tablets, Huawei Mediapad is a "clutter breaker" in the 7" inch segment and offers a full spec tab in this segment. The MediaPad is a complete entertainment powerhouse driven by Qualcomm' s dual-core 1.2GHz processor to drive easy multi-tasking, richer web browsing and faster processing of HD movies and games. The MediaPad provides a fabulous user experience in a stylish, high-performing and ultra-portable package. The MediaPad is Huawei Device' s smartest, slimmest and lightest tablet yet, measuring just 10.5mm (0.4 inches) deep and weighing approximately 390g (0.86 pounds).
Huawei Mediapad offers the industry's highest 217 PPI (pixels per inch), an IPS screen, WXGA (1280X800 pixels) display, 1080P full HD and SRS – delivering amazing movies and videos playback experience. It also features a 1.3 megapixel front facing camera and 5 megapixel auto focus rear facing camera with HD video recording capabilities. With HSPA+ 14.4Mbps and high-speed Wi-Fi 802.11n Internet connectivity, the MediaPad doesn't just entertain – it keeps you connected. Mediapad support PC like web browsing with Flash 10.3 support, full HDMI output and 4100 mAh battery delivering over 6 hours of play time. Priced at Rs 28,359, Huawei Mediapad also comes with multiple sensors and GPS and A-GPS with Google maps.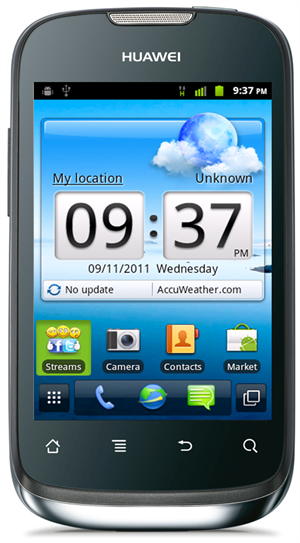 Huawei Sonic, one of the world's first cloud phones, offers the ultimate entertainment and social networking experience on a bigger and brighter display and comes with integrated social phonebook with Facebook, Twitter and Linkedin via Huawei Streams.
Powered by the latest Android v 2.3 Gingerbread, Huawei Sonic offers excellent mobile internet experiences on a wide 3.5''(8.9 cm) HVGA display, capacitive multi-touch ensuring fluent operation, better coverage and data performance via Receive Diversity and Wi-Fi 11n for 6 times faster internet. Huawei Sonic offers multiple sensors – accelerometer, proximity, ambient light and compass delivering better browsing, gaming and enhanced battery conservation.
Huawei Sonic comes with noise cancellation with dual-mic & useful syncing feature for music downloads. Optimized for entertainment, Huawei Sonic cloudphone comes with 1400 mAh long-lasting battery, 512MB on-board storage and 20GB additional storage (4GB bundled micro SD card and 16GB cloud net drive). Huawei Sonic also comes pre-loaded with a range of popular international and Indian apps like Atom for payments and bookings, Astute for online TV, Bollywoodji for the latest movie & star news and Huawei Care for support.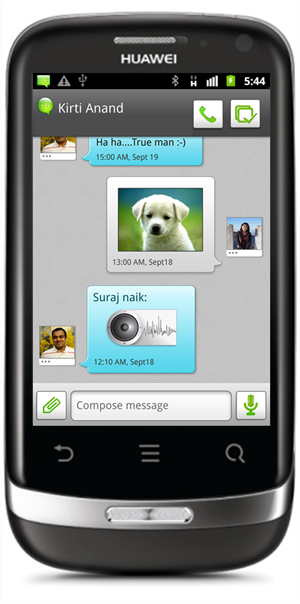 Huawei IDEOS X3, another in the series of World's First Cloud phones, is targeted at the style conscious users aged between 22-35 year olds. IDEOS X3 offers premium design detailing with stylish curve lens for smoother touch experience and wider viewing angle. Only 11.2 mm slim, IDEOS X3 comes with Huawei's new UI offering 3D homepage animations that makes it easy to navigate. It boasts a super-fast boot-up function, and Huawei's own over-the-air (HOTA) upgrade solution, offering easy and timely Android OS upgrades.
Powered by the latest Android 2.3 v, Huawei IDEOS X3 cloud phone includes Google Maps, Google Talk, Gmail and YouTube, and features dual camera (3.2 MP & VGA), 3.2" HVGA screen and the latest 3.5G (7.2 Mbps), Wi-Fi 11n for faster internet. With 512MB on-board storage and 20GB additional storage, IDEOS X3 is perfect for sharing digital experiences for the style conscious users. Priced at Rs 10,229, IDEOS X3 with Cloud+ services, offers the latest experience with Google Android Gingerbread and new features like Easy Sync music list and Easy Backup & Restore.
Huawei Cloud+ Services
The explosive growth of content, multi-device ownerships, range of connectivity options, social networking services and any time anywhere access has driven the need for Cloud Services world-wide and in India. Huawei Cloud+ service offers 16GB Cloud disk for storage, richer messaging with Message+ to share texts, pictures, videos and voice notes, Phone Finder to locate, back-up and lock, Cloud Gallery to easier viewing and sharing, Huawei Streams for integrated social phonebook experience, Huawei App Store for popular Indian and global apps, Sync Data and Over the air(OTA) Solution for OS upgrade. Huawei Cloud+ services enable easy downloads and sharing of content and anytime, anywhere, any device access.
We will be reviewing these amazing devices soon. Do check back for hands-on review.