Like Commonwealth Games 2010, ICC Cricket World Cup 2011 tournament will be grand and going to be telecasted in the High Definition (HD) format. ICC along with ESS (ESPN Star) has set special plans to make ICC CWC 2011 a TV extravaganza.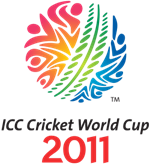 Below are some excerpts from official ICC News section, which depicts their high plans set for the advancement and success of CWC 2011:
For the first time, production of the ICC Cricket World Cup with be broadcast in the High Definition (HD) format and audiences will enjoy the most riveting experience as each and every match will be covered by at least 27 cameras, including such innovative features as movable slips cameras and new, low 45-degree field cameras.

The live broadcast will feature as many as 30 commentators and legends of the game from the leading participating countries.

The 2011 edition will see many first-of-its-kind initiatives. It will be the very first time that an ICC event will have the Decision Review System (DRS) thus further enhancing the overall presentation of the game. For the very first time, the ICC Cricket World Cup will be shown across platforms in such an extensive manner as online and mobile 3G.

There will also be extensive radio coverage of the ICC CWC 2011. In India, national broadcaster All India Radio will be covering 32 matches, while the other two hosts, Sri Lanka and Bangladesh will be serviced by FM Derana and Bangladesh Betar, respectively. Outside of the sub-continent the event will have ball by ball commentary from the BBC (UK), SABC (South Africa), Sport Radio (New Zealand), Australia (ABC) and Channel 2 (Middle East). Channel 2 is also doing live commentary on the internet via Cricket Radio.
ICC CWC 2011 Related Posts:
Watch Cricket World Cup Opening Ceremony Live Online
Official ICC Cricket World Cup 2011 Schedule/Fixtures [PDF]