Microsoft has just released the June 2011 Cumulative Security Update for Internet Explorer, that also includes the first security update (KB2530548) for Internet Explorer 9 thereby updating IE9 to IE 9.0.1. As per Security Bulletin MS11-050, the update addresses the vulnerabilities by modifying the way Internet Explorer enforces the content settings supplied by the Web server, handles HTML sanitization using toStaticHTML, handles objects in memory, and handles script during certain processes.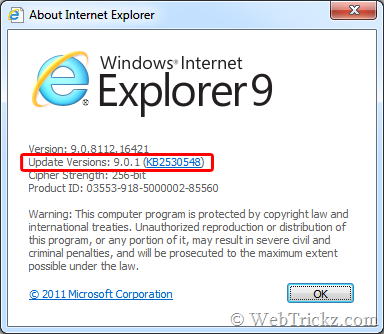 This security update resolves 11 privately reported vulnerabilities in Internet Explorer. The most severe vulnerabilities could allow remote code execution if a user views a specially crafted Web page using Internet Explorer. An attacker who successfully exploited any of these vulnerabilities could gain the same user rights as the local user. Users whose accounts are configured to have fewer user rights on the system could be less impacted than users who operate with administrative user rights.

This security update is rated Critical for Internet Explorer 6 on Windows clients, Internet Explorer 7, Internet Explorer 8, and Internet Explorer 9; and Moderate for Internet Explorer 6 on Windows servers.

The update is now available via Windows Update, so those who have enabled automatic updates do not need to take any action. You can also get the KB2530548 Update manually from Windows Update or download the applicable update using link below, install it to protect your computer and get all the fixes till date.
Link – Download IE Security Update for Windows
via [IEBlog]