Internet Explorer 9 Release Candidate was released a while ago and Microsoft has now started distributing IE9 RC via Automatic Update or Windows Update. MS has also decided to provide the final IE9 release (the Release-to-Web, RTW) build via AU and WU to all users. However, if you don't want the IE9 RTW build to get automatically installed, then "IE9 Automatic Update Blocker Toolkit" by Microsoft will help you out.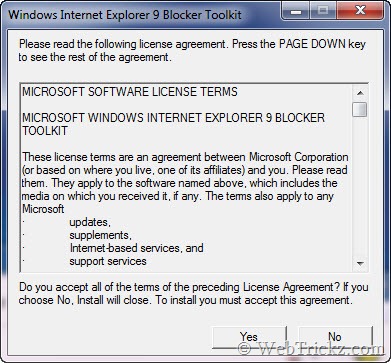 To help prevent users from installing IE9 RTW through Automatic Update, we are providing the IE9 AU Blocker Toolkit which, when deployed, prevents IE9 RTW offered as an important update via AU. This Toolkit has no expiration date and can be configured either by running the registry file on the client machines or via Group Policy in domain joined environments. The Toolkit also provides an unblock procedure which can revert the block. We believe this approach strikes a good balance by helping customers become more secure and letting organizations control when they are ready to deploy IE9 to their users.

The IE9 Blocker Toolkit has no impact on the IE9 RC AU deployment to IE9 Beta customers and, further, will not block the final version of IE9 offered to users who already have pre-released versions of IE9 installed on their machine. This is to ensure that we provide the latest security fixes to users running older pre-release versions of IE9. The toolkit, also, does not prevent users from manually installing IE9 from the Microsoft Download Center.
Download Toolkit to Disable Automatic Delivery of Internet Explorer 9
Source: IEBlog