Imageshack is one of the most popular service, which lets you upload your images or pictures and host them free on Internet. It has now updated its image uploading application with many new and advanced features.
The Imageshack Bulk Uploader is a simple standalone application for uploading one or more image and video files to Imageshack. Users can upload to their account or anonymously.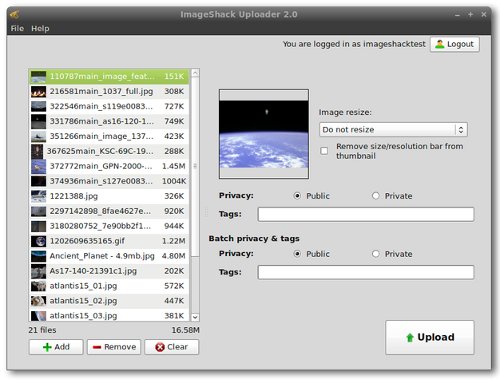 The tool has now added support for MAC and Linux including Windows OS. It now supports many languages like Dutch, English, French, German, Greek, Portuguese, Russian, and Spanish.
The New bulk uploader also supports:
– Sharing to Twitter via yfrog (Imageshack's Twitter upload service)
– Tags
– Previews
– Image resizing
– Drag and drop uploads
– Group link creation
Grab this free tool fast and start sharing your favorite pictures over the web 😀
Download Latest Imageshack Uploader 2.1