There are high speculations that Yahoo may be shutting down its popular bookmarking service "Delicious". However, we think it is hardly possible for Yahoo to do this but to be on a safer side, you might want to backup and import all your Delicious bookmarks into Google Bookmarks. This can be easily done using the "Delicious to Google Bookmarks" tool officially provided by Google.

Just visit the link: www.google.com/bookmarks/deliciousimport to import your Delicious bookmarks to Google Bookmarks.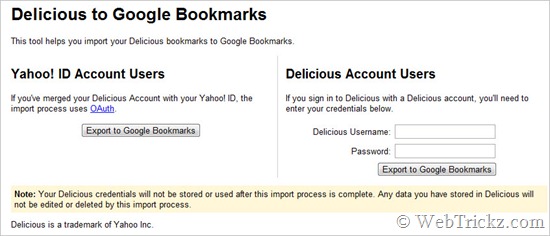 You can use Yahoo! ID to login, works if you've merged your Delicious Account with your Yahoo! ID, the import process uses OAuth. Alternatively, you can use your Delicious account credentials to login and Export to Google Bookmarks.
Thanks Matt Cutts (via Twitter)