Microsoft Internet Explorer 8 has a safety feature called InPrivate Filtering which is different from InPrivate Browsing. InPrivate Filtering helps prevent website content providers from collecting information about sites you visit. These content providers or third-party websites such as – advertisements, maps, or web analysis tools are present as content on many webpages.
InPrivate Filtering option can be easily enabled in IE 8 from Safety > InPrivate Filtering or using Ctrl+Shift+F shortcut. The problem is that InPrivate Filtering feature is disabled automatically as you close IE and needs to be enabled again at every new session.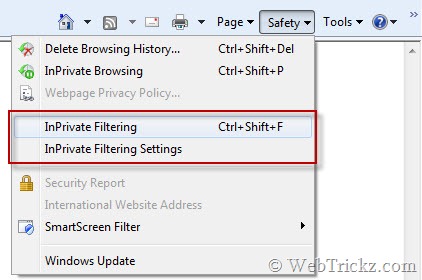 InPrivate Filter Manager is a small and portable tool, which enables InPrivate Filtering mode to automatically turn on when a user opens Internet Explorer. The program does this by adding some keys to registry which can also be done manually. It also provides the ability to easily add filters to InPrivate Filtering – Small filter (740 items) and Large filter (3966 items) to autoblock items.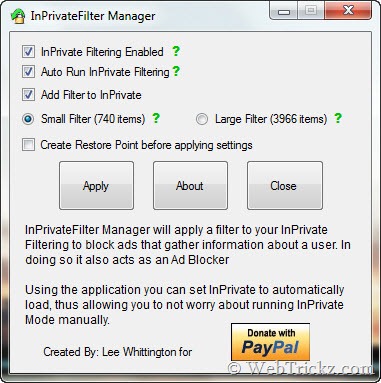 To Enable InPrivate Filtering by default in IE8, Download InPrivate Filter Manager and extract it. Run the InPrivate Filter Manager.exe file and tick mark the first 3 checkbox. Click Apply to save the changes.
Now InPrivate Filtering will be permanently activated in IE and can be disabled anytime.