If you are a web designer or blogger who searches for good color pallets and html color charts to find perfect color scheme for your projects then here is a great tool which tells you the exact color.
Instant Eyedropper is a free software tool for webmasters that will identify and automatically paste to the clipboard the HTML color code of any pixel on the screen with just a single mouse click.
1. Move the mouse pointer to the Instant Eyedropper icon in the system tray.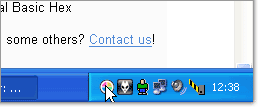 2. Press and hold the left mouse button and drag the mouse pointer to the pixel whose color you want to identify.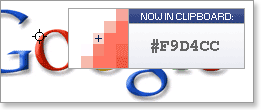 3. Release the mouse button.
That's it. The clipboard now contains the color code – in HTML format (or any other format that you have previously specified). It can be pasted and used in any text or HTML editor or the Color Picker tool of Photoshop.
Supported OS: NT, 2000, 2003, XP
Download Instant Eyedropper    [Size: 375KB]
>> See All HTML Color Codes    [ via ]