Mostly all iPad users are waiting eagerly for the launch of iOS 4 software update for iPad which was said to out in Fall 2010. Good news is that, Apple has now confirmed that "iOS 4.2 Software update is coming soon to iPad". There is an added excitement that along with iPad, iPhone and iPod touch will be getting the iOS 4.2 update this November.
From Apple's official site: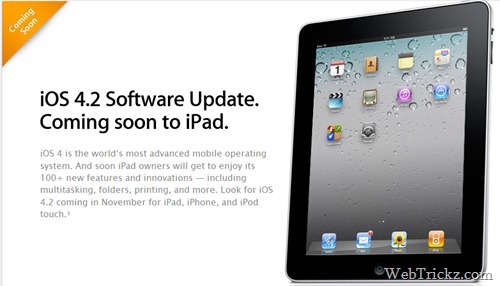 iOS 4 is the world's most advanced mobile operating system. And soon iPad owners will get to enjoy its 100+ new features and innovations — including multitasking, folders, printing, and more. Look for iOS 4.2 coming in November for iPad, iPhone, and iPod touch.
Also See: Official List of New Features in iOS 4