The much awaited Apple's new iPhone software iOS4 (iPhone OS4) is finally released and available for free download. iPhone & iPod Touch users can now upgrade to latest iOS4 firmware and enjoy the new & most amazing features.

The free iOS 4 Software Update comes with over 100 new features and is the same OS which has been shipped to the recently released iPhone 4. We've already covered a post on: iPhone OS 4.0 Features [Adds MultiTasking] but have also list some of the most powering and exciting Features of iOS 4 below:

Multitasking
Folders
Even better Mail
iBooks
Create playlists
5x digital zoom
Tap to focus video
Faces and Places in Photos
Home screen wallpaper
Gift apps
Spell checking
Wireless keyboard support
Compatibility – iOS 4 works with iPhone 3GS, iPhone 3G and iPod touch. But only the iPhone 3GS and iPod touch 3rd generation are fully compatible with iOS4 and will run everything. The iPhone 3G and iPod touch 2nd generation – will run many things, but they will not get some advance features like multitasking.
Upgrading iPhone/ iPod touch to iOS4 (iPhone OS4) –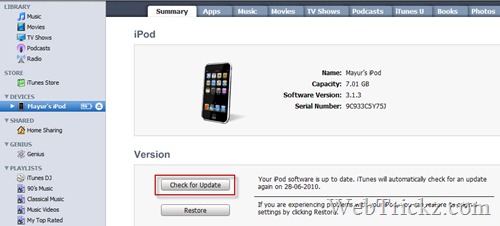 To Upgrade your iPhone 3G, iPhone 3GS or iPod touch to iOS4, you need to update your iTunes to latest 9.2 version. Then connect your device and run iTunes, open the device summary and click "Check for Update" button. Update to the latest iOS4 firmware.
Note – Jailbreakers must take care before updating to the new iOS 4 software.