Official 2011 Indian Premier League Schedule | DLF IPL 4 T20 Final Schedule
ICC Cricket World Cup 2011 will be ending on April 2nd but all the die-hard Cricket fans can hold up with great excitement after it because IPL 4 T20 cricket tournament will be commencing in full action just 6 days after the end of CWC i.e. on April 8, 2011.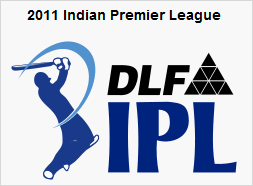 The fourth season of the Indian Premier League will be hosted by India and will run from April 8 to May 28, 2011. IPL 4 includes the addition of 2 new teams namely: Pune Warriors and Kochi Tuskers Kerala. A total of 70 matches will be played this time, plus there will be two Qualifier, one Eliminator, and lastly the Final match in IPL 4. The official schedule of all matches to be held is given below along with their dates, timing, and venue.
IPL 4 Schedule –
Fri Apr 8
14:30 GMT | 20:00 IST
1st match – Chennai Super Kings v Kolkata Knight Riders
MA Chidambaram Stadium, Chepauk, Chennai
Sat Apr 9
10:30 GMT | 16:00 IST
2nd match – Deccan Chargers v Rajasthan Royals
Rajiv Gandhi International Stadium, Uppal, Hyderabad
Sat Apr 9
14:30 GMT | 20:00 IST
3rd match – Kochi Tuskers Kerala v Royal Challengers Bangalore
Nehru Stadium, Kochi
Sun Apr 10
10:30 GMT | 16:00 IST
4th match – Delhi Daredevils v Mumbai Indians
Feroz Shah Kotla, Delhi
Sun Apr 10
14:30 GMT | 20:00 IST
5th match – Pune Warriors v Kings XI Punjab
Dr DY Patil Sports Academy, Mumbai
Mon Apr 11
14:30 GMT | 20:00 IST
6th match – Kolkata Knight Riders v Deccan Chargers
Eden Gardens, Kolkata
Tue Apr 12
10:30 GMT | 16:00 IST
7th match – Rajasthan Royals v Delhi Daredevils
Sawai Mansingh Stadium, Jaipur
Tue Apr 12
14:30 GMT | 20:00 IST
8th match – Royal Challengers Bangalore v Mumbai Indians
M Chinnaswamy Stadium, Bangalore
Wed Apr 13
10:30 GMT | 16:00 IST
9th match – Pune Warriors v Kochi Tuskers Kerala
Dr DY Patil Sports Academy, Mumbai
Wed Apr 13
14:30 GMT | 20:00 IST
10th match – Kings XI Punjab v Chennai Super Kings
Punjab Cricket Association Stadium, Mohali, Chandigarh
Thu Apr 14
14:30 GMT | 20:00 IST
11th match – Deccan Chargers v Royal Challengers Bangalore
Rajiv Gandhi International Stadium, Uppal, Hyderabad
Fri Apr 15
10:30 GMT | 16:00 IST
12th match – Mumbai Indians v Kochi Tuskers Kerala
Wankhede Stadium, Mumbai
Fri Apr 15
14:30 GMT | 20:00 IST
13th match – Delhi Daredevils v Kolkata Knight Riders
Feroz Shah Kotla, Delhi
Sat Apr 16
10:30 GMT | 16:00 IST
14th match – Chennai Super Kings v Royal Challengers Bangalore
MA Chidambaram Stadium, Chepauk, Chennai
Sat Apr 16
14:30 GMT | 20:00 IST
15th match – Deccan Chargers v Kings XI Punjab
Rajiv Gandhi International Stadium, Uppal, Hyderabad
Sun Apr 17
10:30 GMT | 16:00 IST
16th match – Rajasthan Royals v Kolkata Knight Riders
Sawai Mansingh Stadium, Jaipur
Sun Apr 17
14:30 GMT | 20:00 IST
17th match – Pune Warriors v Delhi Daredevils
Dr DY Patil Sports Academy, Mumbai
Mon Apr 18
14:30 GMT | 20:00 IST
18th match – Kochi Tuskers Kerala v Chennai Super Kings
Nehru Stadium, Kochi
Tue Apr 19
10:30 GMT | 16:00 IST
19th match – Delhi Daredevils v Deccan Chargers
Feroz Shah Kotla, Delhi
Tue Apr 19
14:30 GMT | 20:00 IST
20th match – Royal Challengers Bangalore v Rajasthan Royals
M Chinnaswamy Stadium, Bangalore
Wed Apr 20
10:30 GMT | 16:00 IST
21st match – Mumbai Indians v Pune Warriors
Wankhede Stadium, Mumbai
Wed Apr 20
14:30 GMT | 20:00 IST
22nd match – Kolkata Knight Riders v Kochi Tuskers Kerala
Eden Gardens, Kolkata
Thu Apr 21
14:30 GMT | 20:00 IST
23rd match – Kings XI Punjab v Rajasthan Royals
Punjab Cricket Association Stadium, Mohali, Chandigarh
Fri Apr 22
14:30 GMT | 20:00 IST
24th match – Mumbai Indians v Chennai Super Kings
Wankhede Stadium, Mumbai
Sat Apr 23
10:30 GMT | 16:00 IST
25th match – Kolkata Knight Riders v Royal Challengers Bangalore
Eden Gardens, Kolkata
Sat Apr 23
14:30 GMT | 20:00 IST
26th match – Delhi v Kings XI Punjab
Feroz Shah Kotla, Delhi
Sun Apr 24
10:30 GMT | 16:00 IST
27th match – Deccan Chargers v Mumbai Indians
Rajiv Gandhi International Stadium, Uppal, Hyderabad
Sun Apr 24
14:30 GMT | 20:00 IST
28th match – Rajasthan Royals v Kochi Tuskers Kerala
Sawai Mansingh Stadium, Jaipur
Mon Apr 25
14:30 GMT | 20:00 IST
29th match – Chennai Super Kings v Pune Warriors
MA Chidambaram Stadium, Chepauk, Chennai
Tue Apr 26
14:30 GMT | 20:00 IST
30th match – Delhi Daredevils v Royal Challengers Bangalore
Feroz Shah Kotla, Delhi
Wed Apr 27
10:30 GMT | 16:00 IST
31st match – Pune Warriors v Chennai Super Kings
Dr DY Patil Sports Academy, Mumbai
Wed Apr 27
14:30 GMT | 20:00 IST
32nd match – Kochi Tuskers Kerala v Deccan Chargers
Nehru Stadium, Kochi
Thu Apr 28
10:30 GMT | 16:00 IST
33rd match – Kolkata Knight Riders v Kings XI Punjab
Eden Gardens, Kolkata
Thu Apr 28
14:30 GMT | 20:00 IST
34th match – Rajasthan Royals v Mumbai Indians
Sawai Mansingh Stadium, Jaipur
Fri Apr 29
14:30 GMT | 20:00 IST
35th match – Royal Challengers Bangalore v Pune Warriors
M Chinnaswamy Stadium, Bangalore
Sat Apr 30
10:30 GMT | 16:00 IST
36th match – Kochi Tuskers Kerala v Delhi Daredevils
Nehru Stadium, Kochi
Sat Apr 30
14:30 GMT | 20:00 IST
37th match – Mumbai Indians v Kings XI Punjab
Wankhede Stadium, Mumbai
Sun May 1
10:30 GMT | 16:00 IST
38th match – Rajasthan Royals v Pune Warriors
Sawai Mansingh Stadium, Jaipur
Sun May 1
14:30 GMT | 20:00 IST
39th match – Chennai Super Kings v Deccan Chargers
MA Chidambaram Stadium, Chepauk, Chennai
Mon May 2
14:30 GMT | 20:00 IST
40th match – Delhi Daredevils v Kochi Tuskers Kerala
Feroz Shah Kotla, Delhi
Tue May 3
14:30 GMT | 20:00 IST
41st match – Deccan Chargers v Kolkata Knight Riders
Rajiv Gandhi International Stadium, Uppal, Hyderabad
Wed May 4
10:30 GMT | 16:00 IST
42nd match – Chennai Super Kings v Rajasthan Royals
MA Chidambaram Stadium, Chepauk, Chennai
Wed May 4
14:30 GMT | 20:00 IST
43rd match – Pune Warriors v Mumbai Indians
Dr DY Patil Sports Academy, Mumbai
Thu May 5
10:30 GMT | 16:00 IST
44th match – Kochi Tuskers Kerala v Kolkata Knight Riders
Nehru Stadium, Kochi
Thu May 5
14:30 GMT | 20:00 IST
45th match – Deccan Chargers v Delhi Daredevils
Rajiv Gandhi International Stadium, Uppal, Hyderabad
Fri May 6
14:30 GMT | 20:00 IST
46th match – Royal Challengers Bangalore v Kings XI Punjab
M Chinnaswamy Stadium, Bangalore
Sat May 7
10:30 GMT | 16:00 IST
47th match – Kolkata Knight Riders v Chennai Super Kings
Eden Gardens, Kolkata
Sat May 7
14:30 GMT | 20:00 IST
48th match – Mumbai Indians v Delhi Daredevils
Wankhede Stadium, Mumbai
Sun May 8
10:30 GMT | 16:00 IST
49th match – Royal Challengers Bangalore v Kochi Tuskers Kerala
M Chinnaswamy Stadium, Bangalore
Sun May 8
14:30 GMT | 20:00 IST
50th match – Kings XI Punjab v Pune Warriors
Punjab Cricket Association Stadium, Mohali, Chandigarh
Mon May 9
14:30 GMT | 20:00 IST
51st match – Rajasthan Royals v Chennai Super Kings
Sawai Mansingh Stadium, Jaipur
Tue May 10
10:30 GMT | 16:00 IST
52nd match – Kings XI Punjab v Mumbai Indians
Punjab Cricket Association Stadium, Mohali, Chandigarh
Tue May 10
14:30 GMT | 20:00 IST
53rd match – Deccan Chargers v Pune Warriors
Rajiv Gandhi International Stadium, Uppal, Hyderabad
Wed May 11
14:30 GMT | 20:00 IST
54th match – Rajasthan Royals v Royal Challengers Bangalore
Sawai Mansingh Stadium, Jaipur
Thu May 12
14:30 GMT | 20:00 IST
55th match – Chennai Super Kings v Delhi Daredevils
MA Chidambaram Stadium, Chepauk, Chennai
Fri May 13
14:30 GMT | 20:00 IST
56th match – Kochi Tuskers Kerala v Kings XI Punjab
Holkar Cricket Stadium, Indore
Sat May 14
10:30 GMT | 16:00 IST
57th match – Mumbai Indians v Deccan Chargers
Wankhede Stadium, Mumbai
Sat May 14
14:30 GMT | 20:00 IST
58th match – Royal Challengers Bangalore v Kolkata Knight Riders
M Chinnaswamy Stadium, Bangalore
Sun May 15
10:30 GMT | 16:00 IST
59th match – Kings XI Punjab v Delhi Daredevils
Himachal Pradesh Cricket Association Stadium, Dharamsala
Sun May 15
14:30 GMT | 20:00 IST
60th match – Kochi Tuskers Kerala v Rajasthan Royals
Holkar Cricket Stadium, Indore
Mon May 16
14:30 GMT | 20:00 IST
61st match – Kolkata Knight Riders v Mumbai Indians
Eden Gardens, Kolkata
Tue May 17
14:30 GMT | 20:00 IST
62nd match – Pune Warriors v Deccan Chargers
Dr DY Patil Sports Academy, Mumbai
Wed May 18
10:30 GMT | 16:00 IST
63rd match – Kings XI Punjab v Royal Challengers Bangalore
Himachal Pradesh Cricket Association Stadium, Dharamsala
Wed May 18
14:30 GMT | 20:00 IST
64th match – Chennai Super Kings v Kochi Tuskers Kerala
MA Chidambaram Stadium, Chepauk, Chennai
Thu May 19
14:30 GMT | 20:00 IST
65th match – Pune Warriors v Kolkata Knight Riders
Dr DY Patil Sports Academy, Mumbai
Fri May 20
14:30 GMT | 20:00 IST
66th match – Mumbai Indians v Rajasthan Royals
Wankhede Stadium, Mumbai
Sat May 21
10:30 GMT | 16:00 IST
67th match – Kings XI Punjab v Deccan Chargers
Himachal Pradesh Cricket Association Stadium, Dharamsala
Sat May 21
14:30 GMT | 20:00 IST
68th match – Delhi Daredevils v Pune Warriors
Feroz Shah Kotla, Delhi
Sun May 22
10:30 GMT | 16:00 IST
69th match – Royal Challengers Bangalore v Chennai Super Kings
M Chinnaswamy Stadium, Bangalore
Sun May 22
14:30 GMT | 20:00 IST
70th match – Kolkata Knight Riders v Rajasthan Royals
Eden Gardens, Kolkata
Tue May 24
14:30 GMT | 20:00 IST
Qualifier 1 – TBC v TBC (1st v 2nd)
Wankhede Stadium, Mumbai
Wed May 25
14:30 GMT | 20:00 IST
Eliminator – TBC v TBC (3rd v 4th)
Wankhede Stadium, Mumbai
Fri May 27
14:30 GMT | 20:00 IST
Qualifier 2 – TBC v TBC (Winner Eliminator v Loser Qualifier 1)
MA Chidambaram Stadium, Chepauk, Chennai
Sat May 28
14:30 GMT | 20:00 IST
Final – TBC v TBC
MA Chidambaram Stadium, Chepauk, Chennai
Update – PDF Schedule