iPodME 2.0 – Free and reliable video converter for iPod
iPod Media Encoder is a free utility that converts video into an iPod-compatible format. It is a simple & efficient video converter. The profiles are easy enough to figure, keeping in mind that slower encoding also means better video quality. It supports batch conversion and the new video files are created by default in the same folder as iPodME.
It's been a while since the last release, and some serious work have been done for the new 2.0 version! New features, faster conversion, better video quality, smaller video size and more input formats supported.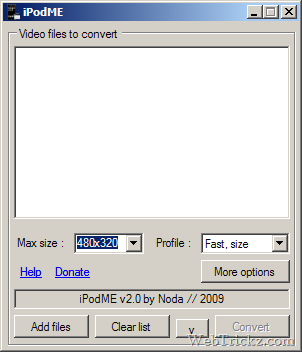 New Changes in v2.0:
added support for soft-subtitles and multiple subtitles per video
removed subtitles burning and DirectShow input support (AviSynth/VobSub no longer needed)
new input codecs supported
added a new encoder mode for custom profile: "output size" allow you to specify a target file size, the corresponding average bitrate will be automatically calculated (experimental).
output folder is now changeable
better remaining time estimation
tweaked profiles to reflect last ffmpeg changes, providing faster encoding in most cases, better quality and smaller file sizes
fixed a bug when iPodME was minimized and could be locked
fixed some UI bugs
Download: iPodME 2.0 / Sources