The iPhone Dev team has released redsn0w 0.9.6 BETA which allows users to jailbreak their iPhone 3G and iPod Touch 2G device running iOS 4.1 or iOS 4.0 firmware.
This is a beta release of redsn0w for the iPhone3G and iPod Touch 2G at FW 4.1 or 4.0. It uses the same pwnage2 DFU-mode exploit that we've been using since the 2.x days. It does not include the SHAtter exploit developed by pod2g. Nothing new is revealed to Apple with this jailbreak.

IF YOU USE THE ULTRASN0W UNLOCK, PLEASE WAIT FOR PWNAGETOOL TO SUPPORT 4.1. DO NOT USE REDSN0W. That's because to use redsn0w at 4.1, you need to already have updated to official 4.1 from Apple. If you do that, you lose the ultrasn0w unlock (possible forever).

Note: if you have an "MC" model of the ipt2g, your 4.1 jailbreak will be tethered…sorry! (Consider rolling back to a FW supported by jailbreakme.com or spiritjb.com)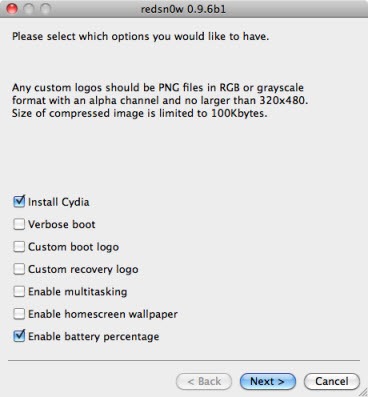 DO NOT use Redsn0w if your iPhone 3G relies on Ultrasn0w unlock. Redsn0w 0.9.6 currently supports Mac OSX x86 only, Windows version will come soon.
Follow the steps below to jailbreak iOS 4.1 on iPhone 3G and iPod Touch 2G –
1. Download iOS 4.1 for your device. [iOS 4.1 Direct Download Links]
2. Make sure your device is updated to the latest iOS 4.1 official software.
3. Download redsn0w 0.9.6b1 (for Mac) and launch it. Select the final version of iOS 4.1 ipsw which you used to update the device.
4. Select "Install Cydia" and click "Next". Enter into DFU mode by pressing the power and home buttons at the same time for few seconds. After few seconds release the "Power" button but keep holding "Home" button until installation begins.
5. Wait for Redsn0w to complete the jailbreak process and automatically restart your device. Enjoy!
Note – Proceed at your own risk, we can't be held responsible if anything goes wrong.
via [RedmondPie]