Until now, we had been praising the spectacular security products from Kaspersky Labs which includes the most popular and powerful, Kaspersky Internet Security and Kaspersky Anti-virus. Kaspersky has just announced that they are set to launch a new and smart product 'KASPERSKY ONE' that aims to protect multiple devices with just 1 license.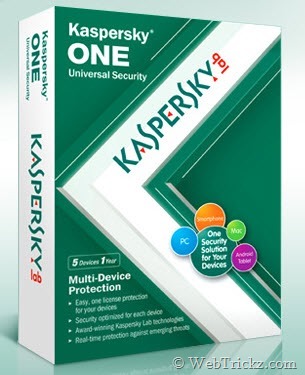 Kaspersky ONE Universal Security is designed to easily protect multiple digital devices, i.e. PCs, Macs, Smartphones and Android tablets with one flexible security solution. It guards your valuable information on web-connected and portable devices against cybercriminals and their malicious software. Users benefit by getting the appropriate protection from a trusted leader without having to purchase multiple products. With just one license, you can conveniently secure any combination of your devices against emerging threats. For example, with the 5-device Kaspersky ONE, you can protect:
Your household desktop, two laptops, and two smartphones
Two tablets, two smartphones, and a Mac
Two laptops, two smartphones, and one tablet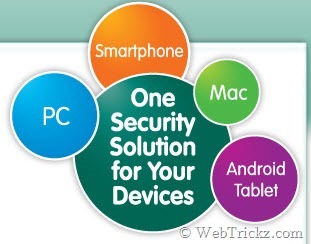 Kaspersky One will be available in combinations for three, five and ten devices. It can be used to protect desktop and laptop personal computers running Windows® or Mac OS X®, Android, Symbian, Windows Mobile or BlackBerry smartphones, and Android-based tablets. Each of these devices can be protected with Kaspersky ONE, which provides security that is optimized for each device to ensure maximum performance and protection.
Certainly, Kaspersky ONE seems a great security suite for users having multiple gadgets. It would be highly useful for those who are much concerned about the security of their portable devices such as smartphone, tablet, etc. The NEW Kaspersky ONE will be available for purchase in the U.S., United Kingdom, and Ireland on October 17, 2011.
Visit the page: http://usa.kaspersky.com/one. Enter your name and email address to be the first to know as soon as Kaspersky ONE becomes available! The product will be available globally including Canada in early 2012. It will be also available for online order.
Pricing: 1-year licenses of Kaspersky ONE can be purchased for $79.95 for 3 devices, $99.95 for 5 devices, and $149.95 for 10 devices.
Check the Press Release @Marketwire