Kingsoft Free Antivirus (Beta) is a cloud based antivirus similar to Panda Cloud Antivirus. It is a permanently free antivirus software, which uses Cloud Security technology to monitor and protect your system against attacks from worms, trojans, spyware, malware and unnamed viruses.
Kingsoft Free Antivirus provides effective and efficient protection solution with faster operation and lower CPU utilization. It detects emerging threats and remove hidden threats from your computer. The comprehensive defender ensures your computer be secure from any potential risks. It also provides several convenient tools, such as USB Device Protection, IM Protection, Disk Cleaner, History Cleaner, LSP Repair, etc.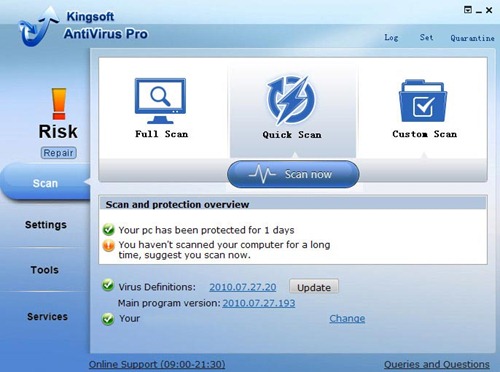 Key features:
Lower CPU utilization and Faster operation
Effective and efficient
Completely compatible with Windows OS
User friendly, simple and convenient
Monitor the files downloaded by tools and block the attacks from Internet.
Monitor and scan transferred files from MSN and other messengers.
Download Kingsoft Free Antivirus (16.7 MB)