As you know, pen drives or USB thumb drives are now being commonly used  by all of us. Kingston, a leading manufacturer of Flash drives has now launched the worlds biggest sized pen drive available till date.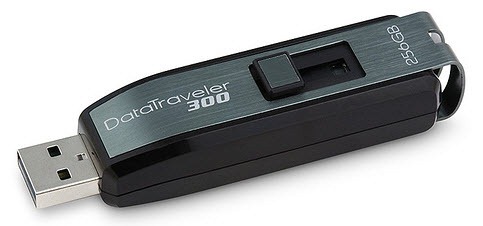 Kingston's new DataTraveler 300 is a convenient way to store, carry and transfer files. With its 256GB capacity, DataTraveler 300 contains plenty of room for storing photos, music, movies and important files.
It offers fast speed so you can copy and transfer files in less time. A Password Traveler software is included, which allows you to create and access a password-protected, secure area of the drive called a "Privacy Zone."
Features/Specifications:
Capacity — 256GB
Fast — data transfer rates of up to 20MB/sec. read and 10 MB/sec. write
Simple — just plug into a USB port
Practical — lightweight, durable, capless design (retractable USB connector)
Guaranteed — five-year warranty
Safeguarded — includes Password Traveler security software for Windows
DataTraveler 300 is Available in Far East, Europe, Middle East & Africa only. It comes at a freaking price of £565.67 excluding VAT.