LINE, the popular mobile messenger app has announced the launch of their new "Selfie Camera App B612" for Android users in India. B612 was earlier released for iOS back in August and is now available for Android devices as a Free app on the Google Play store. B612 app was named for one of the planets that the prince from the novella "The Little Prince" lived on.
B612 by LINE is a smart and easy-to-use camera app, designed especially for taking great selfies with tons of real-time filters to choose from. The app only uses the front-facing camera of the phone, making it extremely simple to capture amazing selfie shots by providing the core features and strips away all the unnecessary camera features.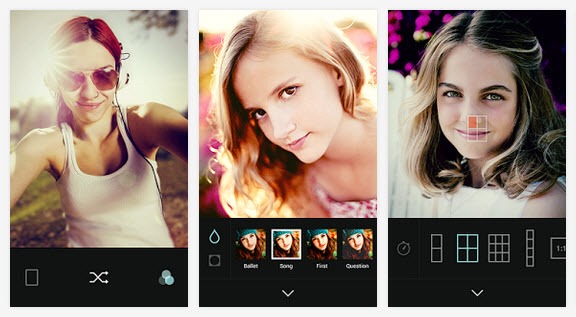 B612 offers a quick and most convenient way to take gorgeous selfies and share them right away. Users can tap anywhere on the screen to take a photo (with no shutter sound) using the front camera. The app comes bundled with 53 Filters made for selfies, choose the one that fits you best! You can switch between various filters in real-time prior to taking selfies by simply swiping across the screen. One can also tap the Random icon to switch filters randomly.
Users don't need to worry about unneeded selfies being saved on the phone, as the photos are saved only after you explicitly tap the 'Save' option. Alongside the Save option, quick sharing options are included for instantly sharing the selfies on Line, Facebook, Twitter, WhatsApp, and Instagram. B612 comes with a Soft-Focusing ability that automatically recognizes people, focusing out of the background to highlight faces and bodies. Furthermore, the app allows users to easily make a collage of selfies with various types of collages to choose from. While taking a collage, you can flip between different filters one at a time to prepare a collage with multiple photos flaunting different moods and filter effects.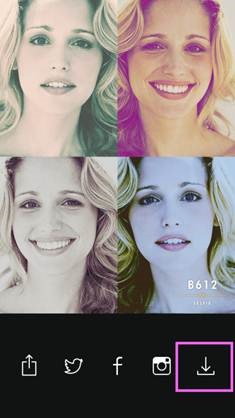 Tip – The app places a B612 watermark on all the selfies but you can easily turn it off by disabling the Lamplighter option in app settings. Do try it out!
Download B612 Selfie Camera App for Android [ Requires Android 4.0.3 and up]