The much awaited day is just a day away when Apple will be introducing the new iPhone at the "Let's Talk iPhone" keynote, scheduled for tomorrow Oct 4th at their headquarters in Cupertino, California. There is a high speculation that Apple is going to introduce a cheaper iPhone (codenamed iPhone 4S), along with a completely new smartphone "iPhone 5". Apparently, the device would be unveiled by Tim Cook, Apple's new CEO. It's highly expected that Apple will also make iOS 5 Final available to the public!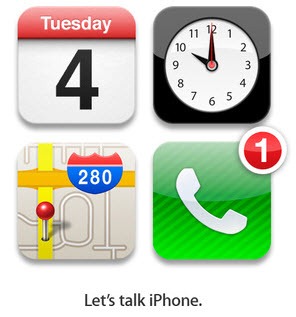 Apple's "Let's Talk iPhone" event will begin at 10:00AM on October 4th. Below are some sources where you can catch the live keynote of iPhone 4S/iPhone 5 media event. There is no confirmation yet if Apple is going to live stream the iPhone event or not? We will update this post will all the relevant links as they go online.
Quality Liveblogs to Watch Apple iPhone 5 Event/Keynote Online:
Worldwide Starting Time, Oct 4th
Hawaii 07:00AM
Pacific 10:00AM
Mountain 11:00AM
Central 12:00PM
Eastern 01:00PM
London 06:00PM
Paris 07:00PM
Moscow 09:00PM
New Delhi 10:30PM
Check your Local timings here.
Update – Apple won't be live streaming the 'Let's talk iPhone' event.