Google has just announced that they will be launching the Android Device Manager to help users track their lost or stolen Android device. Though, there are several apps in the Play store with similar functionality but it's always great to have an integrated service from Google. This phone finder service will be available later this month on devices running Android 2.2 or above, as a part of Google Play Services.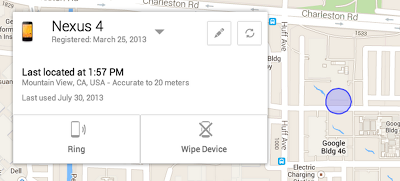 With Android Device Manager, you can find your Android phone or tablet by quickly ringing it at maximum volume even if the device has been silenced. You can also locate the device on a map in real-time if it is out of your reach, perhaps left in a cab or a restaurant. It shows information like when the device was last located, last used and the area where it is likely present. Unfortunately, if you're unable to recover your stolen phone then you can quickly wipe all the data on the device, to stay safe and secure.
Tracking? You can track the stolen Android smartphone using the web interface which requires you sign into your Google account or use the official Android app, that Google will provide to let you to easily find and manage your devices.
Source: Official Android Blog