Maintenance Mode Plugin for WordPress, lets you display a Maintenance Mode page on your wordpress blog. It is very useful when you are setting server, editing theme or configuring your WP blog. It shows your readers a Maintenance page, which is much better than presenting serious errors and codes.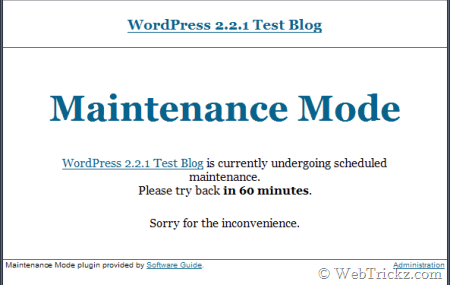 Visitors will see a message like "Maintenance Mode – SITE is currently undergoing scheduled maintenance. Please try back in 60 minutes. Sorry for the inconvenience."
You can fully modify the shown message in the plugins option. To activate the Maintenance Mode, navigate to WordPress Administration » Settings » Maintenance Mode, select 'Activate' and save the options.
This plugin is compatible up to WordPress 2.7 +