If you have ever lost any emails from your Gmail account then you should backup your Gmail account to prevent any loss of your e-mails.
Gmail Backup is the tool that allow Gmail user to regular backup of their mail and restore when necessary. Gmail backup will backup all the mail including the mail information such as labels, date, from and etc. It using the Gmail built in IMAP capability to backup the email and save the messages in Microsoft EML format which allow restoring to other mail client such as Microsoft Outlook.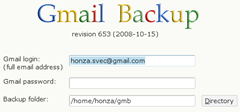 The Windows version comes with a simple graphical interface — just enter in your email address and password, select a backup folder, and click the Backup button. It will save your messages in Microsoft's EML format complete with attachments.
Use Gmail Backup Free