In our previous post, we've already discussed why twitter is powerful and useful as other major search providers. If you want to set and use twitter as your default search provider in browsers like IE, Firefox, Chrome and Opera; then follow the steps below:

To make Twitter as default search engine, just visit http://search.twitter.com/ on your preferred browser and click on the link 'Install Search Plugin' located at bottom of the page. Upon clicking, you will get a dialog box asking to add 'Twitter Search' to list of search engines or search providers. You can then set twitter as your default search.

Adding twitter search in –
Mozilla Firefox

Google Chrome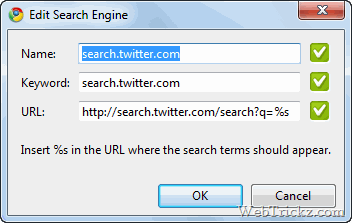 To use twitter as default search in chrome, open Chrome options. Click manage button for default search, find twitter under 'other search engines'. Select its entry and click Make Default button.
Internet Explorer (IE)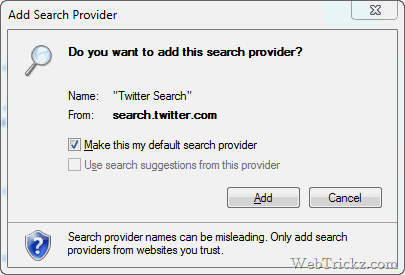 Opera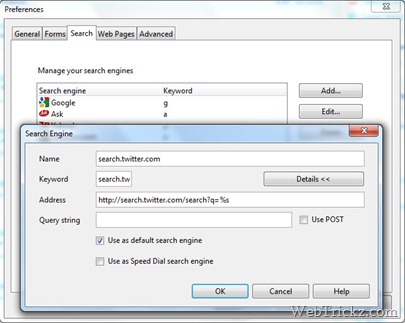 In Opera, you need to manually add twitter search. To do this, open Opera menu > Settings > Preferences > Search tab and click the 'Add' button. Now, enter search.twitter.com in name and keyword box, and in the Address box. Select Ok.
Don't forget to share this article with your friends via social networks!
Note – This information isn't posted anywhere else, so do give credits if you share it on your website or blog.