As you may know, Windows 8 features 2 interfaces – Metro UI style and the traditional desktop screen. By default, Windows 8 boots up directly to Metro start screen and doesn't offers any option to boot into classic desktop instead. To move on to the basic desktop, one needs to click the Desktop tile in Metro UI every time. This might not be handy for users preferring to work in Classic mode instead of the new Modern UI.
Skip Metro Suite is a handy utility with GUI, that allows you to boot directly to Classic Desktop in Windows 8 RTM and Release Preview. Its 'Skip Start Screen' feature makes the system boot to classic desktop directly. Moreover, it also offers the ability to easily disable the top-left corner (Switcher) and Charms Bar hint that pops up on right side. The latest version of the suite has a new option 'Remove All Hot Corners' that lets you completely Remove edge panels, including Charms Bar, Switcher and square start button at bottom-left edge of Desktop.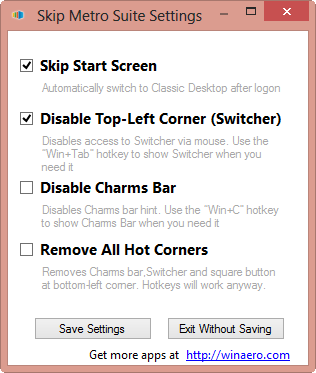 This is really a useful tool as several functions of the Metro interface can be quickly toggle on/off in few clicks without the need to manually perform any registry tweaks.
Note: You need to restart your Windows for the changes to take effect.