Recently, I shared a way on How to cut MP3 files for Free to make Ringtones using Audacity. But Audacity is a difficult choice for novice and less skilled persons. So Ream (a commenter) has shared a nice and free site which lets you make ringtones for mobiles easily.
Make own ringtones is a free and online ringtone maker which is very easy to use. It is very different from any other online ringtone maker because it offers various ways to shape your ringtone into an extraordinary one. It has a very simple interface which can be used by anyone easily.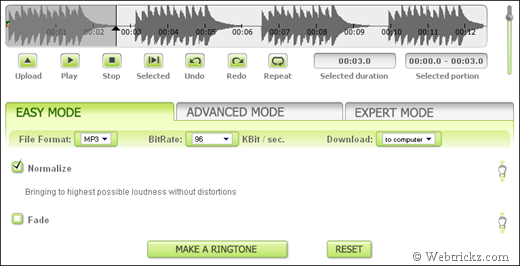 Main Features:
Offers 3 different modes to use: Basic Mode, Advanced Mode, and Expert Mode
7 types of Output file formats: MP3, AAC, MP4, M4R, OGG,QCP,MPC
Different bit rates ranging from 32 to 320 kbps
Downloading options like: download to Computer, to cellphone, via e-mail
Around 16 audio filters: Fade, Speed factor, Bass, echo, phaser, etc.
No Software needed, No Login required,  and its Free !
Just follow the simple steps below to make Ringtones :
Press Upload, choose mp3, wma or ogg audio file and press Open.
Place the markers to set range and clip duration.
Press Selected to listen to your clip.
Change the default sound quality if you want.
Choose and set the filters if you want.
Press Make a Ringtone to convert mp3 to a ringtone.
Please make sure you have a good speed internet connection because it requires you to upload the audio files for editing. http://makeownringtone.com/