'MediaMonkey for Android' was introduced in late 2012 as a beta release and now the final version of the app is available on Google Play. MediaMonkey for Android is more of a media manager for serious collectors than a music player. It lets users sync, navigate, and manage their media, providing a unified view of libraries across Windows and Android devices.
Key features in the initial release include:
Wirelessly sync* Playlists and media, including file info, ratings, lyrics, play history, etc. with MediaMonkey for Windows 4.1.1.

Manage Music, Classical music, Audiobooks, Podcasts, Video, etc…

Navigate by Artist, Album, Composer, Genre, Playlist, Folder*, etc.) with support for multiple attributes (e.g. Genre=Rock; Alternative)

Play with replay gain (volume leveling), an equalizer, and sleep timer

Access, play, and download media from UPnP/DLNA servers*

Edit properties for single/multiple files & lookup lyrics

Manage single/multiple files (e.g. play, queue, add to playlist, delete, use as ringtone, share)

Plus player widgets, scrobbler integration, search, and more…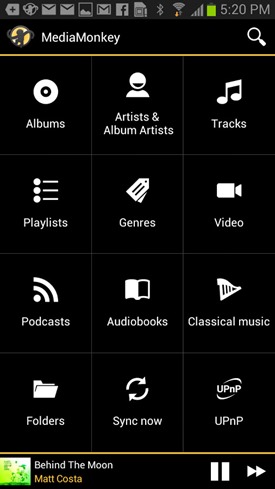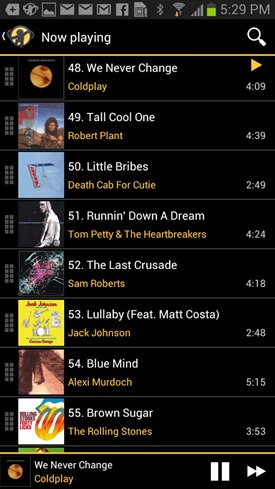 *MediaMonkey for Android is available as a free app with following In-App purchases:
Wi-Fi Sync addon: Allows unlimited wireless synchronization. (USB synchronization is free)
UPnP/DLNA addon: Allows unlimited UPnP/DLNA usage.
Advanced Media Management addon: Allows unlimited lyrics lookup, home screen customization, folder browser, with more to come.
A PRO version of the app is also available for $3.59 that offers access to all the addons.
Other options include: the ability to customize the home screen, set sleep timer, equalizer, choose library folders, Lock Screen Player, Lyrics lookup, Manage single or multiple files (e.g. play, queue, delete, use as ringtone, share, Edit properties), Full-library search, etc.
Download MediaMonkey for Android  [Free | PRO]
Source: MediaMonkey News