Adding more memory (RAM) is always a good option to speed up your computer, but one can also increase PC performance by freeing up Windows system RAM memory.
Memory Cleaner is a free and simple program that helps in reducing the RAM usage on your PC. It uses functions built into Windows to judiciously free memory and can be accessed directly from the system tray. Memory usage can be reduced either by clicking the 'Trim processes working set' or 'Clear system cache' button. After clicking, you will instantly see the amount of RAM recovered briefly displayed in the window.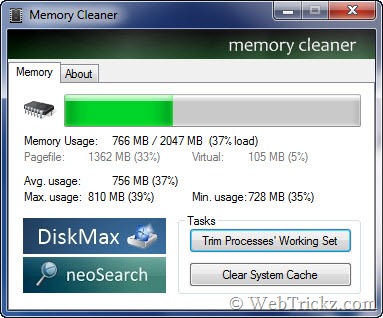 It monitors RAM usage and reports minimum, maximum and average usage of memory. Also reports Pagefile and virtual memory usage. This is a useful tool for heavy PC users or those facing a shortage of RAM.
Supports: Windows XP/2003/Vista/2008/7
Download Memory Cleaner  (391KB)