Microsoft Edge, a web browser by Microsoft was initially released with Windows 10 followed by Windows 10 Mobile and Xbox One. The Edge is a completely new browser built from scratch that managed to replace the decades-old and default, Internet Explorer on Windows. Today, Microsoft has extended its Edge browser support for mobile devices by releasing it for iOS and Android. Microsoft initially released a preview of the Edge for Android and iOS back in October last year, and the final version is now available for end users.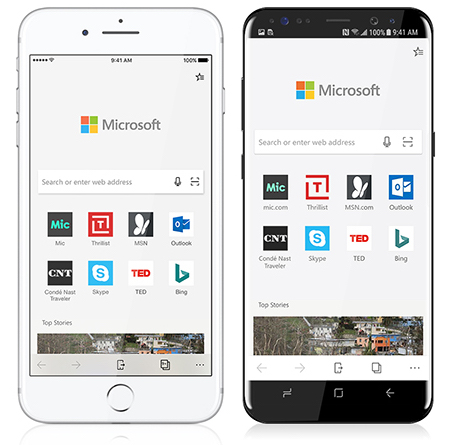 Microsoft Edge for iOS and Android is a free app with some newly added features as compared to the preview version. It aims to offer a seamless browsing experience for Windows 10 users across different devices by syncing content and data in the background. This makes it very convenient to switch between a PC and mobile, thereby resuming your work later. The mobile version of Edge offers similar features as on Windows PC, such as Favorites, Reading List, New Tab Page, Reading View, and Roaming Passwords. Other features include Hub View, QR Code Reader, Voice Search, and InPrivate mode.
Besides adding Roaming Passwords, the final release introduces a Dark theme for mobile devices. As expected, Bing is the default search engine but users can switch to Google and Yahoo as well. Those interested can even set Edge as their default browser directly from the app settings. That said, Microsoft looks forward to bring various new features and updates to the mobile version of Edge in future updates.
Microsoft Edge for mobile is currently available in limited countries and languages. The iOS app is available in the United States, China, France and the UK while the Android app is available in the US, Australia, Canada, China, France, India and the UK. Microsoft plans to bring Edge to additional markets and languages over time.