We've previously discussed various Free Recue Tools like: Kaspersky Rescue Disk, Avira AntiVir Rescue System, AVG Rescue CD, and Norton Bootable Recovery Tool which all provides an effective way to clean PCs that cannot start up due to severe infection caused by a virus or malware. A similar free tool has now been released by Microsoft.
Microsoft Standalone System Sweeper Beta, is a recovery tool that allows you to create a bootable media and can help you start an infected PC and perform an offline scan to help identify and remove rootkits and other advanced malware. In addition, it comes handy when users cannot install or start an antivirus solution on their PC, or if the installed solution can't detect or remove malware on their PC.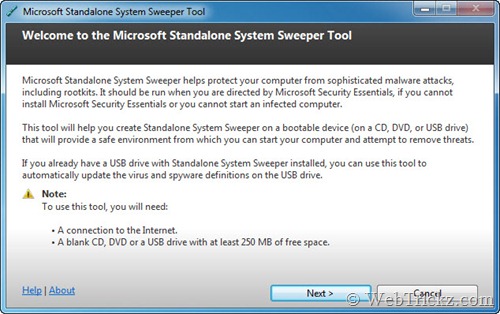 It provides 3 option to make a bootable rescue media; using a blank CD or DVD, a USB drive, or you can create an ISO file and burn it later as per your requirement. The rescue software supports both 32-bit and 64-bit systems.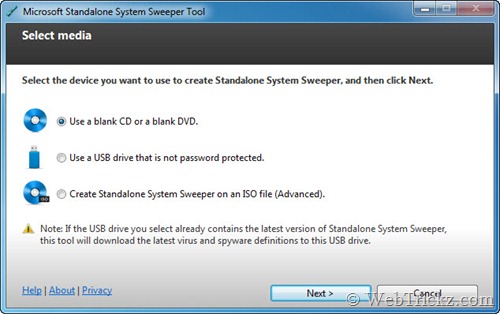 >> Check the Microsoft Standalone System Sweeper Beta 'Help & How-To'
Note: Microsoft Standalone System Sweeper is not a replacement for a full antivirus solution providing ongoing protection; it is meant to be used in situations where you cannot start your PC due to a virus or other malware infection.
Download Link – https://connect.microsoft.com/systemsweeper