Today only, I was thinking to run my Ubuntu iso image from within the Windows but through a simple and easy way. Suddenly to my surprise Lifehacker came out with a great application which solved out my problem.
MobaLiveCD is a freeware that allows you to run your LiveCD on Windows into an emulation window. This tool will run your Linux LiveCD on Windows thanks to the excellent emulator called "Qemu".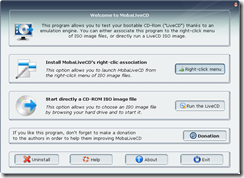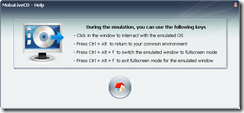 MobaLiveCD allows you to test your LiveCD with a single click : after downloading the ISO image file of your favorite LiveCD, you just have to start it in MobaLiveCD and here you are, without the need to burn a CD-Rom or to reboot your computer.
It is a Light and portable application, with a size of 1.6MB only.