As you may know, the data deleted from Recycle Bin and using Shift+Delete method can be recovered from your Hard drive using various restoration tools. I've found a utility which can delete or wipe off your important data permanently from PC.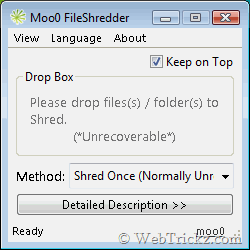 Moo0 FileShredder is a free and easy to use app which lets you easily erase your private/secret files perfectly off your HDD. You just need to drag n drop your private files / folders onto this software.
It currently supports 4 levels of erasing methods depending on how important the file deletion is to you. Just chose which suits you best.
Download Moo0 FileShredder (2.42 MB)