Motorola today launched their much-awaited mid-range smartphone MOTO G in India at very aggressive pricing, that certainly makes it a true value for money phone. The Moto G has been launched exclusively with major Indian online retailer Flipkart. The device has official pricing of Rs. 12,499 for 8GB and Rs. 13,999 for 16GB model in India and will be available for purchase in India after 12AM IST, Feb 6 through Flipkart. Unlike in the US, the Indian variant of Moto G is a Dual SIM phone, which of course is pretty demanding among us Indians.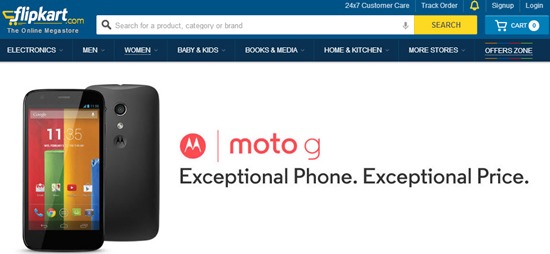 Motorola Moto G is one of the best Android phones in the sub-15k segment, that one should consider buying in India. Surprisingly, Motorola has somehow managed to price it very well in India, considering the 8GB sells for $179 and 16GB for $199 in the US which after taxes almost converts to its Indian pricing. Those unaware, Moto G runs on Stock Android, the current OS version being Android 4.4.2 (KitKat), that somewhat offers a Nexus experience.
Reportedly, Motorola will provide after-sales service through 100 service centres and 30 days replacement guarantee. Although US variant of Moto G doesn't come with earphones and an AC adaptor, the Indian one might have a headset and charger included according to Flipkart's listing. Some cool accessories – Back cover, Grip cover and a Flip cover will be available for Moto G as well in various colourful colours. All Moto G Covers on Flipkart. Buy Moto G on the launch day tomorrow to avail flat 70% discount on covers!
If interested, place your order asap as the device might go Out of Stock soon. 🙂